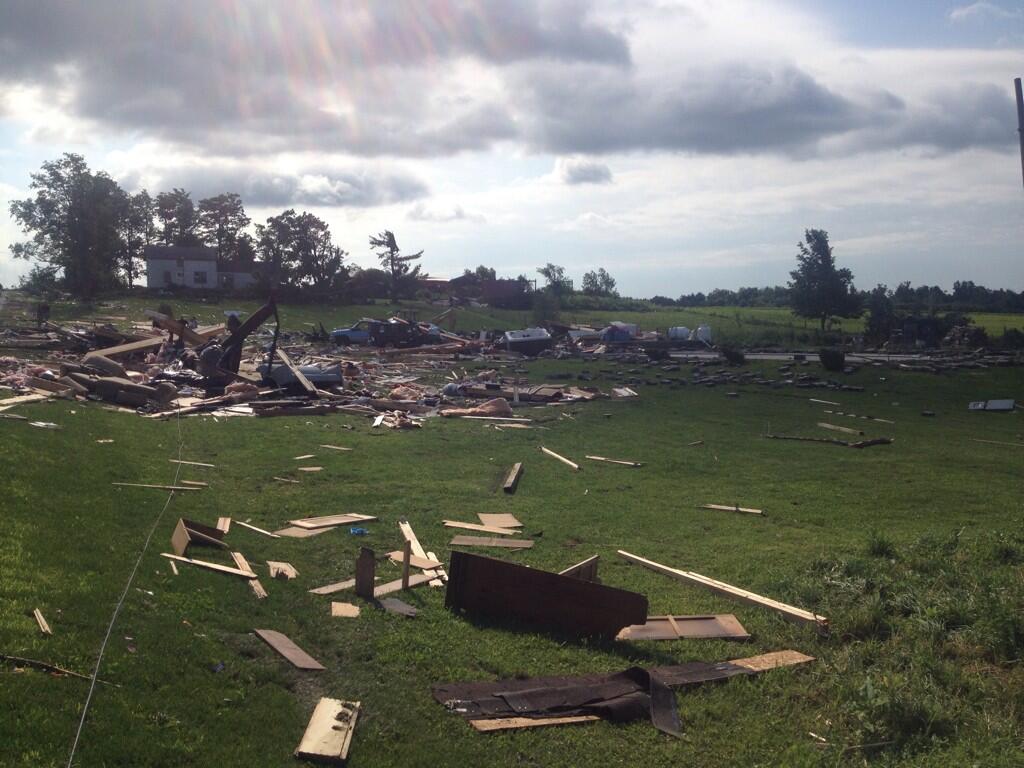 I've wondered for a while whether tornado sirens (or, as emergency managers often call them, "outdoor warning sirens") have become so ingrained in our culture over the past several decades that people instinctively treat them as our most important (if not our only) method to receive warning of impending weather danger.
Sirens sirens sirens. Becoming so real

— Lacey Grant (@laceykristine94) May 19, 2013

Lately, I've seen evidence that this is unfortunately the case. It would be unfortunate, because such sirens were never intended to provide warning to people who are indoors and because many, many communities (including the Indiana community in which I live) don't have enough warning sirens to assure that every person in the community can hear them, even when outdoors.
Why do I think our culture nonetheless puts too much stock in tornado sirens? Here's one case in point: CBS Evening News reporter Vinita Nair did a report July 9 about a rare New York State tornado that killed four people in the town of Smithfield. In part of her report, Nair said, "Smithfield doesn't even have tornado sirens." What prompted that line in her report? I submit that its inclusion indicates how widely-held is the belief that tornado sirens are a primary way to receiving warning of impending danger.
Here's more evidence to consider. At the 11th International Information Systems for Crisis Response and Management (ISCRAM) Conference in University Park, Pennsylvania, last May, seven authors presented "Tweeting and Tornadoes," an academic paper that examines the content of geo-located Twitter messages (tweets) sent on the microblog social network during the Moore, Oklahoma tornado of May 20, 2013. Among other findings, the authors noted that the volume of tweets spiked significantly when tornado sirens became audible to Twitter users (see the graph below).
The authors write, "Sirens in Moore were sounded six times with the initial siren occurring shortly after the first NWS tornado warning was sent (14:41hr) with the final warning at 15:20hr (Kuligowski et al., 2013). The first mention of sirens also begins at 14:41hr (N=22 tweets in 4 minutes) with tweets such as 'Sirens going off now!! Take cover…be safe!', 'Sirens sirens sirens. Becoming so real', and 'If u hear a tornado siren, uve got 6-8 minutes…'"
The tweet that included the words "becoming so real" particularly got my attention. It almost seems as if the writer of that tweet did not begin to appreciate the seriousness of the situation, until she heard sirens. And it came from a person who was obviously connected to the Internet (either via computer or smartphone) and therefore had at her disposal official tweets from NWS and other information sources to enhance situational awareness before sirens sounded.
If, in fact, sirens have become so ingrained in our culture that we need them for motivation when severe weather threatens, I consider that a dangerous trait. Too many of us will never hear a siren, even if a tornado is about to destroy the home we're in. Even a person who lives close to a siren will likely never hear it just before a non-tornadic severe thunderstorm drops a tree on his house and kills him (because many, if not most, communities don't sound tornado sirens for severe thunderstorms without imminent tornado threats).
How do we remove tornado sirens from their strongly held homes deep in our collective psyche? Perhaps we can't. But it sure wouldn't hurt if trusted news sources and public officials continue to share information with their audiences and constituents about the shortcomings of tornado warning sirens, the necessity of having alternative means of receiving warnings and the importance of reacting immediately and appropriately to those warnings, regardless of whether a tornado siren is audible. Likewise, if you're reading this blog, chances are good that you're the severe weather expert in your family, circle of friends, church, etc. You can help to, by spreading the word in your community.
The sound of a tornado siren is so motivating and our response to the sound is so emotional, that the Indianapolis Colts NFL football team uses that sound to rile up the fans during home games at Lucas Oil Stadium. We might never change the emotion associated with that sound. But perhaps we can help protect our communities by doing what we can to build up the importance of other warning methods.
If we're successful, perhaps someday, the sound of a weather alert radio's alarm will prompt a tweet like, "Weather radio sounding off. This is becoming so real."
What do you think? Add your comments to this post (there's a link right under the title).