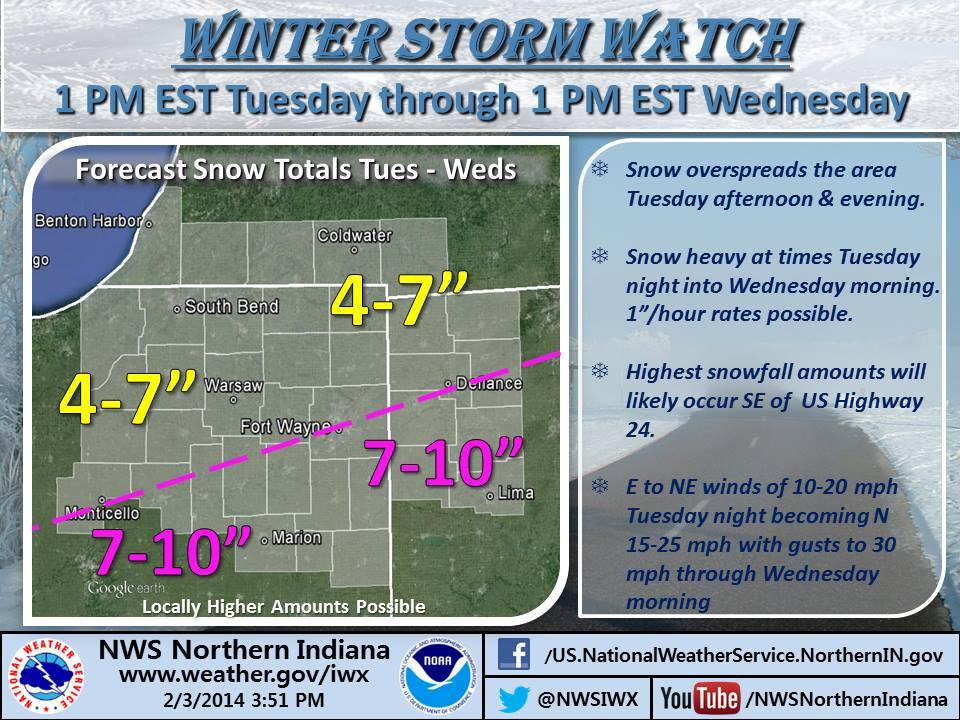 The northern Indiana office of the National Weather Service (NWS) published the above inforgraphic this afternoon to communicate meteorologists' latest thoughts on the magnitude of the incoming winter storm. As you can see, they've revised the snowfall forecast to four to seven inches for much of the forecast area and seven to 10 inches for the remainder of the area. The dividing line appears to go from southwest to northeast right through the center of Allen County. The NWS tweeted that forecasters will be looking at latest computer model runs this evening and tonight and might thereafter issue additional updates to the winter storm watch. The latest version of the watch appears below.
URGENT - WINTER WEATHER MESSAGE
NATIONAL WEATHER SERVICE NORTHERN INDIANA
326 PM EST MON FEB 3 2014

...WINTER STORM DEVELOPING...

.A STRONG STORM SYSTEM WILL MOVE QUICKLY FROM THE SOUTHEAST TEXAS
COAST EARLY TUESDAY AND INTENSIFY AS IT LIFTS NORTHEAST THROUGH
THE TENNESSEE VALLEY AND THEN INTO SOUTHWEST PENNSYLVANIA BY
DAYBREAK WEDNESDAY. SNOW WILL QUICKLY OVERSPREAD THE REGION
TUESDAY AFTERNOON FROM THE SOUTHWEST TO THE NORTHEAST AND BECOME
HEAVY AT TIMES TUESDAY NIGHT. A PERIOD OF HEAVY SNOW WITH
SNOWFALL RATES OF 1 TO 2 INCHES PER HOUR IS POSSIBLE TUESDAY
EVENING WITH GREATLY REDUCED VISIBILITIES. TOTAL SNOWFALL AMOUNTS
BY MIDDAY WEDNESDAY ARE ANTICIPATED TO BE GENERALLY IN THE 6 TO 10
INCH RANGE WITH THE HIGHEST AMOUNTS ALONG AND SOUTH OF THE HIGHWAY
24 CORRIDOR. IN ADDITION...NORTH WINDS WILL INCREASE AND LIKELY CAUSE
SIGNIFICANT AREAS OF BLOWING SNOW TO DEVELOP AFTER MIDNIGHT
TUESDAY NIGHT THROUGH WEDNESDAY MORNING...ESPECIALLY IN OPEN AND
RURAL AREAS...PRIMARILY AFFECTING EAST TO WEST ROADWAYS.

THE WINTER STORM WATCH IS BASED ON THE LATEST INFORMATION AND IS
SUBJECT TO CHANGE...DEPENDING ON THE STORMS EXACT TRACK AND
STRENGTH. LISTEN FOR LATER UPDATES ON THIS DEVELOPING WINTER
STORM.

LA PORTE-ST. JOSEPH IN-ELKHART-LAGRANGE-STEUBEN-NOBLE-DE KALB-
STARKE-PULASKI-MARSHALL-FULTON IN-KOSCIUSKO-WHITLEY-ALLEN IN-
WHITE-CASS IN-MIAMI-WABASH-HUNTINGTON-WELLS-ADAMS-GRANT-BLACKFORD-
JAY-BERRIEN-CASS MI-ST. JOSEPH MI-BRANCH-HILLSDALE-WILLIAMS-
FULTON OH-DEFIANCE-HENRY-PAULDING-PUTNAM-VAN WERT-ALLEN OH- 
INCLUDING THE CITIES OF...MICHIGAN CITY...LA PORTE...SOUTH BEND...
MISHAWAKA...NEW CARLISLE...WALKERTON...ELKHART...GOSHEN...
NAPPANEE...LAGRANGE...TOPEKA...SHIPSHEWANA...ANGOLA...FREMONT...
KENDALLVILLE...LIGONIER...ALBION...AUBURN...GARRETT...KNOX...
NORTH JUDSON...BASS LAKE...WINAMAC...FRANCESVILLE...MEDARYVILLE...
PLYMOUTH...BREMEN...CULVER...ROCHESTER...AKRON...WARSAW...
WINONA LAKE...SYRACUSE...MENTONE...COLUMBIA CITY...TRI-LAKES...
SOUTH WHITLEY...FORT WAYNE...NEW HAVEN...MONTICELLO...BROOKSTON...
MONON...LOGANSPORT...ROYAL CENTER...PERU...GRISSOM AFB...MEXICO...
WABASH...NORTH MANCHESTER...HUNTINGTON...ROANOKE...BLUFFTON...
OSSIAN...DECATUR...BERNE...MARION...GAS CITY...UPLAND...
HARTFORD CITY...MONTPELIER...PORTLAND...DUNKIRK...NILES...
BENTON HARBOR...ST. JOSEPH...BUCHANAN...DOWAGIAC...CASSOPOLIS...
MARCELLUS...STURGIS...THREE RIVERS...WHITE PIGEON...MENDON...
COLDWATER...BRONSON...HILLSDALE...LITCHFIELD...JONESVILLE...
BRYAN...WAUSEON...ARCHBOLD...FAYETTE...SWANTON...DEFIANCE...
SHERWOOD...HICKSVILLE...NAPOLEON...DESHLER...LIBERTY CENTER...
PAULDING...ANTWERP...MELROSE...OTTAWA...PANDORA...KALIDA...
FORT JENNINGS...VAN WERT...DELPHOS...OHIO CITY...LIMA...
SPENCERVILLE

...WINTER STORM WATCH REMAINS IN EFFECT FROM TUESDAY AFTERNOON
THROUGH WEDNESDAY AFTERNOON...

HAZARDOUS WEATHER...

 * SNOW OVERSPREADS THE AREA TUESDAY AFTERNOON AND EVENING.

 * SNOW HEAVY AT TIMES TUESDAY EVENING.

 * TOTAL ACCUMULATIONS OF 6 TO 10 INCHES POSSIBLE...HIGHEST ALONG
   AND SOUTH OF A MONTICELLO TO DEFIANCE LINE.

 * AREAS OF BLOWING AND DRIFTING SNOW DEVELOPS TUESDAY NIGHT AND
   CONTINUES ON WEDNESDAY.

IMPACTS...

 * SNOW COVERED ROADS AND REDUCED VISIBILITIES IN OCCASIONAL
   HEAVY SNOW WILL PRODUCE EXTREMELY HAZARDOUS TRAVEL CONDITIONS
   BY TUESDAY NIGHT.

 * DIFFICULT MORNING COMMUTE EXPECTED WEDNESDAY MORNING.

 * INCREASING NORTH WINDS WEDNESDAY MORNING WILL CAUSE CONSIDERABLE
   BLOWING AND DRIFTING... PRIMARILY ON EAST TO WEST ROADS

PRECAUTIONARY/PREPAREDNESS ACTIONS...

A WINTER STORM WATCH MEANS THERE IS A POTENTIAL FOR SIGNIFICANT
SNOW...SLEET...OR ICE ACCUMULATIONS THAT MAY IMPACT TRAVEL.
CONTINUE TO MONITOR THE LATEST FORECASTS.