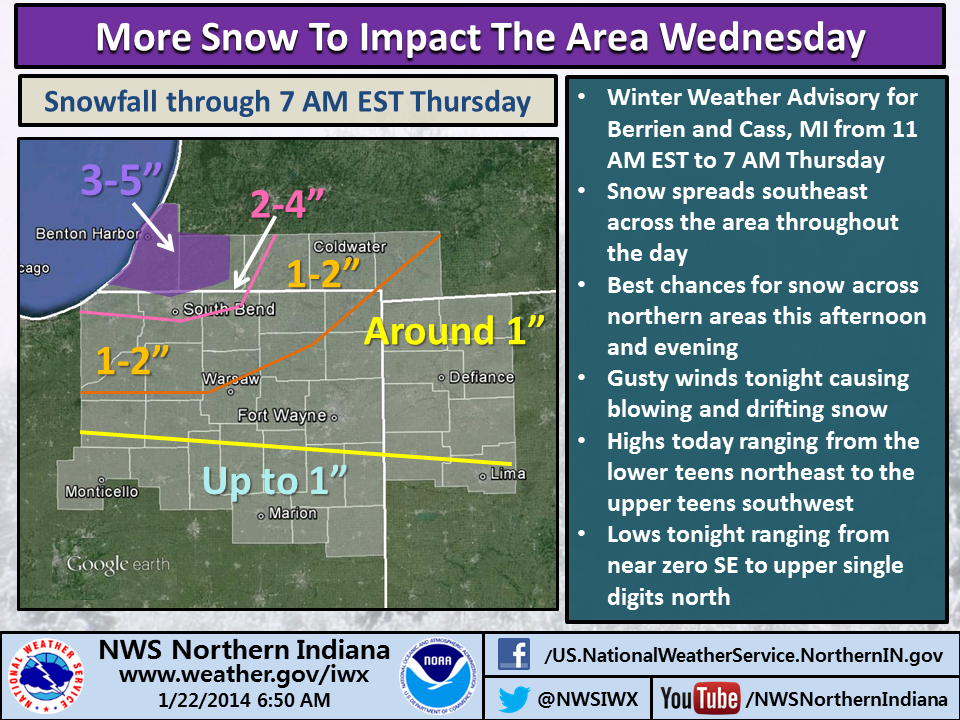 SPECIAL WEATHER STATEMENT
NATIONAL WEATHER SERVICE NORTHERN INDIANA
355 AM EST WED JAN 22 2014

...HARSH WINTER CONDITIONS CONTINUING...

TEMPERATURES WILL BE VERY COLD THIS MORNING...RANGING FROM 5 TO 10
BELOW WHERE SKIES CLEARED OVERNIGHT TO 5 TO 10 ABOVE IN CLOUDY
AREAS. SNOW IS EXPECTED TO DEVELOP THIS AFTERNOON AND CONTINUE
INTO TONIGHT AS A LOW PRESSURE SYSTEM DROPS SOUTHEAST ACROSS THE
AREA. NEW SNOW ACCUMULATIONS BY THURSDAY MORNING SHOULD GENERALLY
BE 1 TO 2 INCHES... EXCEPT 2 TO 4 INCHES ARE EXPECTED IN THE
MICHIGAN CITY... SOUTH BEND... ELKHART CORRIDOR. WINDS ARE
EXPECTED TO INCREASE ACROSS THE ENTIRE AREA TONIGHT CAUSING
BLOWING AND DRIFTING SNOW. THE STRONG WINDS COMBINED WITH THE COLD
TEMPERATURES WILL RESULT IN EXTREMELY COLD WIND CHILLS IN THE 15
TO 25 BELOW RANGE TONIGHT AND INTO THURSDAY MORNING.