See the infographic below, issued this morning by the northern Indiana office of the National Weather Service. Note especially the chance of freezing rain Saturday morning and the statement that the forecast might still change.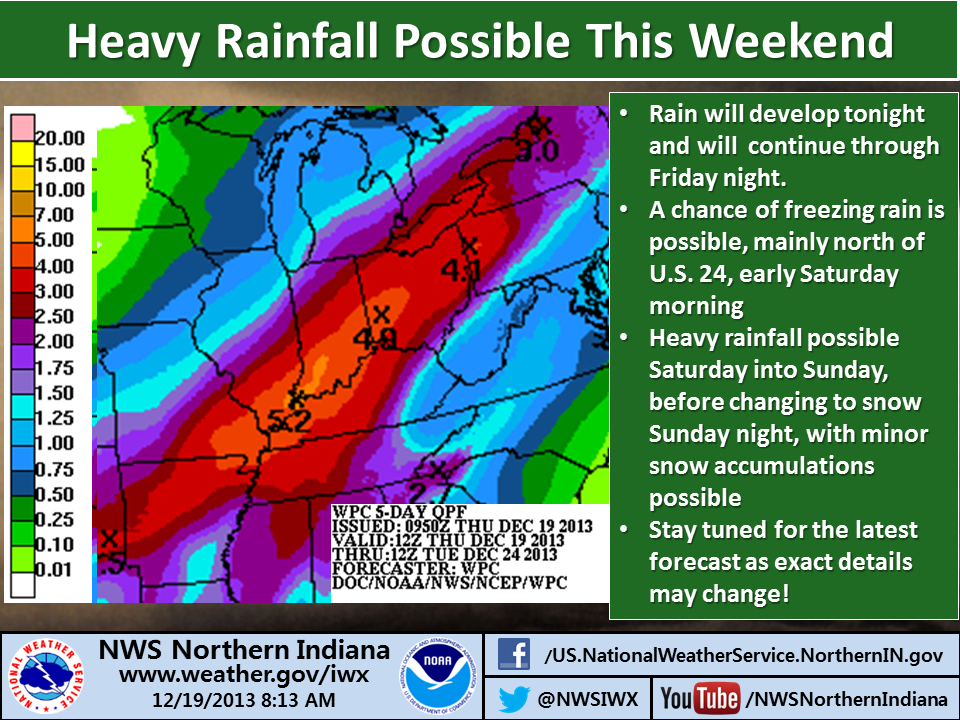 See also the Hazardous Weather Outlook below, which the northern Indiana NWS office issued at 5:15 this morning:
THIS HAZARDOUS WEATHER OUTLOOK IS FOR PORTIONS OF NORTHWEST OHIO...
SOUTHWEST LOWER MICHIGAN AND NORTHERN INDIANA.

.DAY ONE...TODAY AND TONIGHT

NO HAZARDOUS WEATHER IS EXPECTED AT THIS TIME.

.DAYS TWO THROUGH SEVEN...FRIDAY THROUGH WEDNESDAY

THERE IS A CHANCE OF LIGHT FREEZING RAIN OVER NORTHWEST PORTIONS
OF THE AREA FRIDAY NIGHT AND SATURDAY MORNING.

HEAVY RAIN IS EXPECTED ACROSS THE AREA LATER SATURDAY AND SATURDAY
NIGHT AS A STRONG LOW PRESSURE SYSTEM MOVES THROUGH THE AREA. THE
COMBINATION OF HEAVY RAINFALL AND SNOW MELT MAY CAUSE SIGNIFICANT
FLOODING IN THE AREA BY SUNDAY. ACCUMULATING SNOW IS ALSO POSSIBLE
ACROSS NORTHWEST PORTIONS OF THE AREA ON SUNDAY.