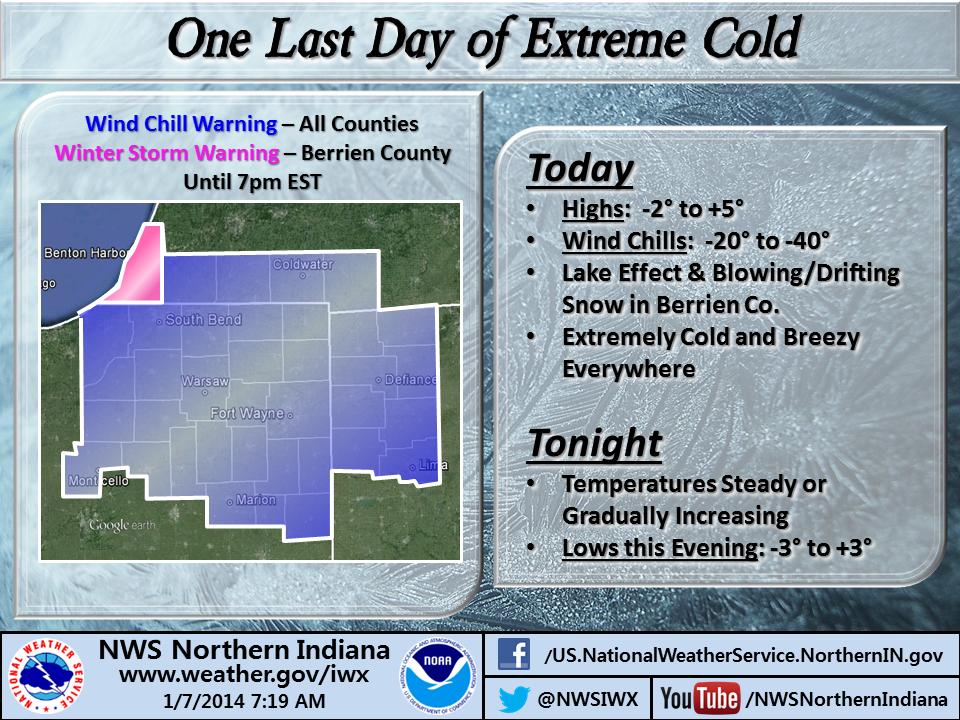 A Wind Chill Warning remains in effect until 7 p.m. EST for all counties covered by the northern Indiana National Weather Service (NWS) office. You can read the full statement on the NWS website, but the highlights are below.
HAZARDOUS WEATHER...

 * DEADLY WIND CHILLS BETWEEN 30 BELOW AND 40 BELOW ZERO CAN BE
   EXPECTED THIS MORNING. WIND CHILLS THIS AFTERNOON WILL BE
   BETWEEN 20 BELOW AND 30 BELOW ZERO.

IMPACTS...

 * FROST BITE AND HYPOTHERMIA WILL OCCUR IN A MATTER OF MINUTES
   WITH THESE EXPECTED WIND CHILLS. DEATH WILL ALSO OCCUR IF
   PRECAUTIONS ARE NOT TAKEN.

Official observation at Fort Wayne International Airport, 7:54 a.m. EST Jan. 7
As of 8 a.m. EST, the temperature at Fort Wayne International Airport was -14 degrees Fahrenheit. When the temperature reached that level at 8:27 p.m. EST Monday night, it set a new record low temperature for Jan. 7. The previous record was -12 in 1970.
During that period of record low temperature Monday evening, the entire city of Auburn had no electricity. According to media reports, power went out at about 6:35 p.m. EST. A close friend who lives in the affected area tells me that power returned to their home at 12:48 a.m. this morning. In its area, Indiana Michigan Power reports no significant power outages this morning. As for REMCs that serve the Fort Wayne area, Northeastern REMC reports five customers out in Whitley County and United REMC reports 14 customers out in Huntington, Wells and Wabash Counties.
According to a report by WANE-TV, PJM Interconnection, the electricity grid operator which supplies power to companies like Indiana Michigan Power, is asking customers to conserve energy usage today. PJM recommends setting thermostats lower than usual, postponing the use of major appliances such as stoves, dishwashers and clothes dryers until midday or after 9 p.m., and turning off electric lights and appliances that you do not need or are not using.
Local travel advisories as of 8:15 a.m. Jan. 7. Red: Travel warning, emergency vehicles only. Orange: Travel watch, only essential travel recommended. Source: IDHS
Travel remained prohibited in most northeastern Indiana counties this morning, according to a map on the website of the Indiana Department of Homeland Security. Allen County is at a "watch" level, which means "conditions are threatening to the safety of the public. During a 'watch' local travel advisory, only essential travel, such as to and from work or in emergency situations, is recommended, and emergency action plans should be implemented by businesses, schools, government agencies, and other organizations." All surrounding counties are at a "warning" level, which means "travel may be restricted to emergency management workers only."
While road crews have made considerable progress, travel remains difficult on all state, U.S. and Interstate highways in northeastern Indiana, according to the website of the Indiana Department of Transportation. As an example of how difficult, shortly before 7 a.m. today, a jackknifed semi tractor-trailer blocked both northbound lanes of I-69 at the 291 mile marker, which is in Huntington County between the U.S. 224 exit at Markle and the I-469 exit to the north
Just before 8 a.m., the DOT sent the following series of tweets:
INDOT update: We continue to discourage anyone from non-essential travel in Northeast Indiana. Details here: https://t.co/0XBgVF8SSd
— INDOT Northeast (@INDOTNortheast) January 7, 2014
Crews have been plowing/treating the roads 24 hours a day, thruout this storm, but subzero temps are making the task extremely difficult.
— INDOT Northeast (@INDOTNortheast) January 7, 2014
Road salt & calcium chloride are less effective in these subzero temperatures. ALL ROADS SHOULD BE CONSIDERED EXTREMELY SLICK AND HAZARDOUS.
— INDOT Northeast (@INDOTNortheast) January 7, 2014